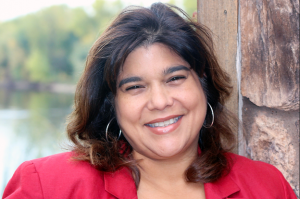 New City Manager Nuria Rivera-Vandermyde shares her favorite reads!
We caught up with Nuria to hear about her favorite books and to hear what she is currently reading. Leaders and Lit is a series where we catch up with city leadership and leaders in the community to see what books they recommend and are currently reading.
Nuria says, "I am a big reader and usually reading several books a month!" "You'll see many of my favorites below, but I like most genres, from poetry to biography. I do tend to read more for pleasure, so I end up with books that are more political in nature – real or fictional."
Currently reading: "Eating Puerto Rico", "How Ten Global Cities Take on Homelessness", and the first in the Ferrante Neapolitan novels, "My Brilliant Friend".
Top Ten Favorites (in no particular order)
1. The Nine by Jeffrey Toobin
2. Heart of Darkness by Joseph Conrad
3. The Tao of Pooh by Benjamin Hoff
4. The Handmaid's Tale by Margaret Atwood
5. From Beirut to Jerusalem by Thomas Friedman
6. Snow Falling on Cedars by David Guterson
7. One Hundred Years of Solitude by Gabriel Garcia Marquez
8. La Vida es Sueño by Pedro Calderon de la Barca
9. I Know Why the Caged Bird Sings by Maya Angelou
10. Penguin Anthology of 20th Century American Poetry edited by Rita Dove