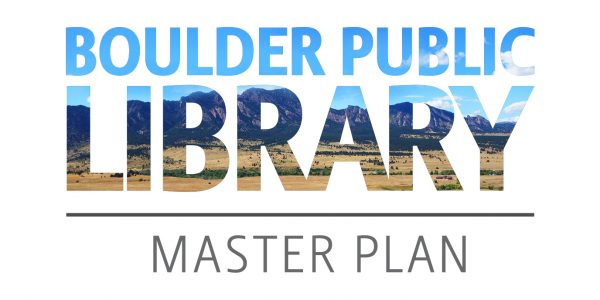 Upcoming Events
Past Events
November 28, 2017
City Council Study Session – Library Master Plan update.
Meeting archive video available.
Community input on draft goals
Members of the community were invited to attend open house meetings to provide staff and Library Commission with input on the library's draft Master Plan goals. The goals were developed based on input shared by the community during various activities held during April through June 2017. The open house meetings were an informal opportunity for community members to review the draft Master Plan goals and to talk with library staff and members of the Library Commission about the future of library services. Community members may also fill out comment cards during the sessions or provide input any time via the online comment form.
Open house meetings held:
Thursday, Sept. 21, 2017          Main Library Canyon Gallery, 1001 Arapahoe Ave.
Saturday, Sept. 23, 2017           Main Library Canyon Gallery, 1001 Arapahoe Ave.
Thursday, Sept. 28, 2017          Wild Sage Common House, 1650 Zamia Ave.
Thursday, Oct. 5, 2017              Boulder Rural Fire Rescue, 6230 Lookout Rd.
Wednesday, Oct. 11, 2017        University of Colorado (East Campus)

Draft Master Plan Goals Community Feedback Report
Youth Opportunities Advisory Board Meeting
Held Sept. 8, 2017
Community Survey and Focus Groups
Survey closed April 17, 2017.
Focus group sessions held:
Adults – May 17, 22, 23, 24, and 30, 2017
Teens – May 17 and 19, 2017
North Boulder – June 8, 2017
Gunbarrel – June 19, 2017
Community engagement and feedback report
North Boulder focus group report
Interviews with community members
Book Rich Environment Event
Held May 19, 2017
Interview notes
BLDG 61 Pop up at Innovate @BVSD
Held June 8, 2017
Interview notes
Library Lab
Held April 5-6, 2017
Main Library in Canyon Gallery
Patrons took part in Library Lab, a two-day testing ground for community ideas with many fun and interactive ways to share thoughts and feedback about the Library. Activities included an Idea Barter Station, where participants received a free service (face painting, haircuts, hand massage & waffle bar) in exchange for their thoughts about the future of the library, A Notch Block Storytelling Workshop, Tours to Unusual Places, Ideation Jam Session: Circle Singing Improvisation.
Circle Singing Improvisation
Community Thought Leaders Dialogue
Held Tuesday, March 21, 2017
Community Thought Leaders Dialogue Summary
The Boulder Public Library Commission and staff invited over 100 leaders and partners from the Boulder community to attend a focus group dialogue about how the library may contribute to making Boulder the kind of community its residents desire. Eighteen leaders participated in the dialogue. Their input and ideas will be incorporated with other community feedback to inform the goals of the Master Plan.