The newly renovated Paper & Spine Used Bookstore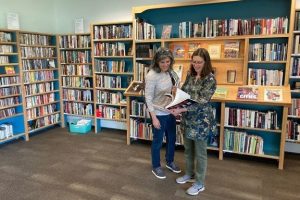 While you may rightly think of a library as a place to borrow books, Boulder Public Library is also home to a used bookstore that recently underwent renovations. The bookstore is a great place to find gently used and affordable books, magazines, movies and more — and the best part is your purchases help support your local library.
The library's used bookstore started over 20 years ago, when the Boulder Library Foundation offered a semi-annual used book sale to the public. Since then, a used bookstore has maintained permanent residence at the Main Library. Volunteers have remained the store's foundation, supporting the coordination of donations, stocking shelves and managing large book sales.
In 2019, the used bookstore began a renovation in its current location on the bridge between the children's section and Seeds Library Café. The Boulder Library Foundation funded the new bookstore and utilized the skills and talents from the BLDG61 makerspace, along with wood from trees cut down due to the Emerald Ash Borer. The wood was treated and used to create the beautiful shelves in the bookstore, which completed renovations last year. The library held a contest earlier this year to rename the bookstore. There were more than 125 creative ideas in the running, but "Paper & Spine Used Bookstore" was ultimately chosen as the store's official name.
All books inside Paper & Spine have been donated to the library. Prices range from $1 to $5. Magazines, CDs and DVDs are also sold at the bookstore. Donated items that cannot be sold are recycled. All money raised funds the volunteer program, special projects and the purchase of library materials. If you wish to donate to the library, please bring your materials to the donations slot near the Arapahoe Avenue entrance of the Main Library. The library welcomes gently used hardcover and paperback books and media (DVDs, CDs, Audiobooks).