Sponsorship Application for Canyon Theater Programs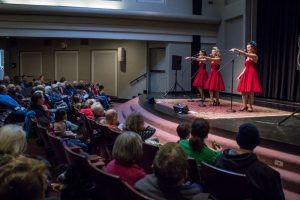 Our next application window is February 14 – 28, 2024.
Boulder Public Library is pleased to consider sponsorship of programs and events that bring value to the community and are aligned with the library's mission. Sponsorship is defined as a program in library facilities that are coordinated by an outside entity and are supported or co-organized by the library.
Sponsored events in the Canyon Theater will be free and open to the public. For a ticketed event, fundraising, or an event requesting sales please see our rental form.
Please review the following information before beginning the application.
Canyon Theatre Terms of Use
Sponsorship of Programs and Events Policy
Library Rules of Conduct
Main Library Parking Guidelines
>> Sponsored programs offer a waived room rental fee, however, applicants are required to pay for theater staff time for in-house technical support and any additional costs as outlined below.
Canyon Theater Fees for Sponsored Programs and Events
Sponsorship includes:
Walk-through of theater space with Theater Manager
One theater staff person for technical operation, standard stage lighting, full sound and mic package, media playback, mixer, house speakers, projector and screen, use of tables for lobby set up

The Canyon Theater does not provide house management or usher services.
Additional Costs
Theater use during regular library hours – $30/hr
Theater use after regular library hours – $200/hr

Includes security costs and one theater staff person

Pre-event time in theater outside event day – $30/hr
Additional consultation beyond walk-through – $30/hr
Piano tuning – $140

The piano is tuned twice a year. If you wish to have it tuned specifically for your event this fee will apply.

Additional custodial fees may apply.
Application