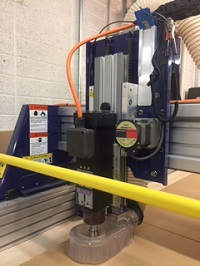 We offer CNC Tool Orientation and guided practice. All patrons must attend the CNC Tool Orientation before taking the guided practice offerings.
All attendees must fill out our Acknowledgement of Risk and Release Form prior to use of makerspace.
Generously sponsored by the Boulder Library Foundation.
Schedule
Tool Orientation: Shopbot CNC
Last Sunday of the month at 3 p.m.
CNC Guided Practice (must complete tool orientation first)
Saturdays –
10 – 11 a.m. and 11:30 a.m. – 12:30 p.m.
Tuesdays & Wednesdays –
1 to 2 p.m.
2:30 to 3:30 p.m.
Upcoming