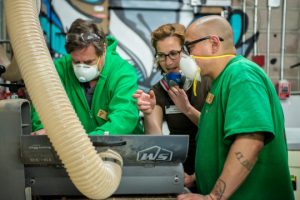 BLDG 61 offers access to our woodshop for patrons to work on small woodworking projects or select a topic to learn about in more depth. Instructors will be available for advice and guidance on personal projects. Safety overview and shop rules will be reviewed at the beginning of class, please be prompt. Masks, eye, and ear protection will be provided but you are encouraged to bring your own. Students are responsible for removing their projects from the space after their shop time has concluded.
Available tools and equipment: table saw, jointer/planer, drum sander, bandsaw, chopsaw, oscillating spindle sander, edge sander, track saw, vacuum press, workbench, clamps, various jigs, and hand tools.
All attendees must fill out our Acknowledgement of Risk and Release Form prior to use of makerspace.
Generously sponsored by the Boulder Library Foundation.

Upcoming