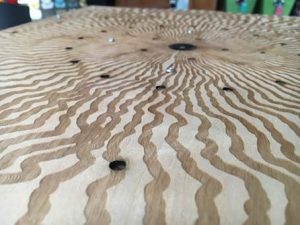 On view through end of June
Come play Solarophone, an interactive installation that turns the entry of the Main Library into a musical instrument. The installation explores the sound of both the space and the physical structure that makes up the conoid atrium. Solarophone makes sounds by triggering motors attached to the architecture and a collection of upcycled instruments from local schools.
The installation responds to changes in light, allowing anyone to play it by casting shadows over a group of light sensors at an interactive pedestal. The music changes depending on the time of day, the weather and the changing seasons as they impact the sunlight coming through.
The glass structure of the conoid entry and Boulder's abundance of sun provides a naturally lighted space that inspired the use of light to influence the musical algorithms that fill the space. Solarophone uses newly developed motor drivers that use MIDI messages to trigger the acoustic sounds. The motors and instruments surround the space, placing you in the middle of a large-scale acoustic instrument that let you hear the library in a new light.
About the artist:
Jiffer Harriman has a B.S. in electrical engineering and a Masters in Music, Science and Technology from Stanford's Center for Computer Research in Music and Acoustics (CCRMA). He is a PhD candidate CU's ATLAS Research Institute under the direction of advisor Michael Theodore (College of Music). This project is an extension of his previous work in music technology and interactive art that began when Jiffer first worked with sound artist Trimpin during an artist-in-residence program at CCRMA.
A focus of Jiffer's work is to create easy-to-use hardware and software platforms to enable his own work as well as others to use technology to enable new forms of creative expression. This includes a platform for building digital musical instruments and motor drivers for music. For more information, or to contact Jiffer Harriman visit his website.