City of Boulder Presents Art of Data Open Call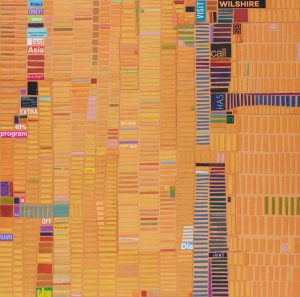 The City of Boulder City Manager's Office, Information Technology Department, and the Boulder Public Library are excited to announce an open call for artwork for an upcoming exhibition, Art of Data. This exhibition will be held in the Canyon Gallery of the Main Library from December 14, 2018 to February 3, 2019. The show will celebrate art created by the community, inspired by the City of Boulder's Open Data Catalog and other public City data.
Our community of Boulder has a strong commitment to creativity, a progressive and inclusive mindset, and an entrepreneurial spirit. Within the local government sector, we have a renewed focus on innovation that is being driven by a citywide effort to enhance data-driven decision-making and innovation. In order to further our innovation work and continue encouraging an open dialogue about important issues in our community, the City of Boulder is seeking artwork that has been inspired by our city's data. Submit your artwork idea that is inspired by Boulder data and showcase what the City's progress and priorities mean to you.
The Art of Data exhibition is a new and innovative approach to engaging artists with City data, and we anticipate lots of questions! We have a few different ways for you to ask City staff questions, including upcoming community events:
The City of Boulder's Open Data Catalog Engage webpage contains information on different ways to interact with the City's data and should be used as a starting point for inspiration.
We will host an Open House as part of Boulder Arts Week on April 2, 2018, from 4 – 6 p.m. in Boulder Main Library's Canyon Gallery. During this open house, you will have the opportunity to meet with staff who can help you navigate and understand the catalog and available data topics, see inspiration images or just talk shop about the application requirements.
Come visit our booth at the citywide Open House, called What's Up Boulder, on April 30, 2018, 5:30 – 7:30 p.m. at East Boulder Community Center. During the Open House, you will have the opportunity to talk one-on-one with staff members organizing the Art of Data exhibition, at a booth shared with the Open Data and Boulder Measures programs.
Open Call Details
Accepted artwork will receive an honorarium of $250 and will be on display in the Canyon Gallery. Per City of Boulder and the Boulder Public Library policies, City of Boulder employees are not eligible for monetary awards for accepted artwork. Please see our FAQs for more information on the artwork submission process for City employees.
Artwork must meet the following criteria:
All mediums welcome (paintings, drawings, textiles, static images of digital data visualizations, sculpture etc.). Three dimensional or installation artwork may be submitted, but space will be extremely limited for these displays. Digital mediums will only be accepted if the artwork is fully self-sufficient (i.e. no resetting needed or turning equipment on/off) and comes with the necessary equipment for the artwork to be displayed (monitor, laptop etc.) Please see our FAQs for more information about accepted mediums and our Art of Data inspiration webpage for ideas and inspiration about types of mediums that could be used.
Artwork must be the original work of the applicant.
Artwork must be in ready-to-hang format. Detailed hanging requirements can be found on the 2018 Data Gallery Guidelines and will be sent prior to artwork drop-off. ARTWORK MUST COMPLY WITH THE HANGING INSTRUCTIONS.
All ages and skill levels welcome (amateur to professional).
City of Boulder data must be the inspiration for the submitted artwork. See the Open Data Catalog's Engage webpage for more information on how to interact with a variety of our data.
Each community member is welcome to submit one piece for consideration. Submissions will be chosen based on creativity, strength of connection to data in the City of Boulder's Open Data Catalog and type of media in relation to other selected artwork.
To submit your work, please fill out the online submissions form.
The deadline for submission is May 31, 2018. Early entries are encouraged! We will contact all artists regarding whether their submission was accepted by early July 2018.
For questions about the Canyon Gallery space and/or artwork specifications, please contact Jaime Kopke at 303-441-3193 or

[email protected]

.
For questions about using the Open Data catalog or other City data, or to suggest ideas for additional live program content to coincide with the Art of Data exhibition in late 2018, please contact Nicolia Eldred-Skemp at

[email protected]

or 303-441-4945.
Selected artwork will need to be dropped off at the Boulder Public Library Canyon Gallery on Wednesday, December 12, 2018, from 10:00 a.m. to 4:00 p.m. and picked up at the library on Monday, February 4, 2019, from 10:00 a.m. to 4:00 p.m. NO EXCEPTIONS. If you are not able to personally drop-off/pick up your piece during those times, you will need to find someone to do this for you. Art cannot be stored after the deadline, and early drop-off/pick-up is not possible.