1000 Books Before Kindergarten!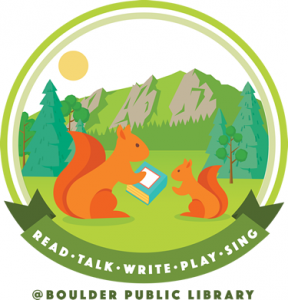 Boulder Public Library is launching 1000 Books Before Kindergarten, on August 1, and we hope you'll celebrate with us!

The program encourages families to read lots of books with their young child, especially before they enter kindergarten. We help celebrate their milestones along the way, as families track 100 books at a time. Did you know that if you read one book every night with your child you'll reach 1,095 books in just 3 years? There are fun check-in milestones along the way, and easy-to-use reading records. Celebrations will be held to launch the program, and each fall to celebrate participating children, regardless of their progress toward the 1000 books read.
Registration begins August 1 at Boulder Public Libraries or you can register online and print out your first log. We hope you can join us for our launch celebrations:
Monday, August 1
10:15 a.m. at Main Boulder Public Library
Tuesday, August 2
10:15 a.m. at NoBo Corner Library
Wednesday, August 3
10:15 a.m. at Meadows Branch Library
4 p.m. at George Reynolds Branch Library
Launch parties include storytimes with our local fire and police heroes. Fire trucks and police vehicles will be available to explore after storytimes at our Main Library, and at the Meadows and George Reynolds branch libraries.
Questions? Contact [email protected], 303-441-3100.