2021 Library Card Art Contest Winners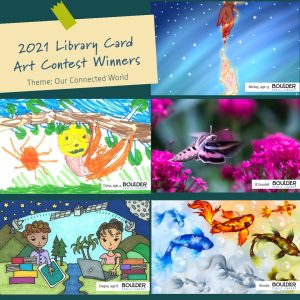 In March, we asked the Boulder community to submit designs for our annual Library Card Art Contest based on the theme for the upcoming Summer of Discovery: Our Connected World. Boulder's artists responded! The library received 63 entries in 4 different age groups! The staff selection committee had the difficult task of narrowing the entries down to just one winner in the children's age group. And the community was able to vote on the adult entries. After much deliberation, we are pleased to announce the winners:
7 & Under age group:  Oona, age 4
8-10 years old: Dagny, age 8
11-14 years old: Mickey, age 13
Adult (2 winners): B Goodell and Brooke
These designs are being turned into new library cards available later this summer, to coincide with the events for the 2021 Summer of Discovery.
This slideshow requires JavaScript.