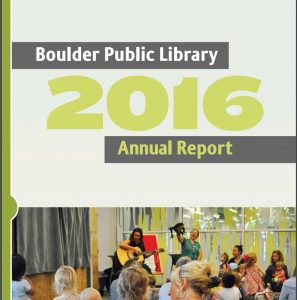 2016 was a great year for BPL! We won Colorado Library of the Year, an honor bestowed in recognition of exceptional growth, expanded partnerships and innovative programming. Last year, we welcomed nearly one million visitors and another 300,000 visitors online – making Boulder Public Library one of the busiest public places in the city. From the Main Library to the Meadows Branch to the George Reynolds Branch to the NoBo Corner Library, we are a community gathering place, a destination for family learning, and a trusted access point for information.
Books and children's programming are still our 'bread and butter,' but this past year also saw a host of new programs. The opening of BLDG 61 – our Library Foundation-funded makerspace – was a huge success. In ten months, space offered hundreds of programs, welcomed thousands of visitors, inspired several patent applications, and also attracted further grant funding.
The Knight Foundation provided funding for 'Tree Debris to Opportunity,' a program designed to provide people experiencing homelessness the opportunity to learn advanced woodworking skills using locally harvested ash trees infested by the emerald ash borer. And the Littlefield Family Foundation funded 'Build, Learn, Design, Grow,' an apprenticeship program for underserved teens to explore design from building drones to wearable textiles.
To learn more, we hope you will read through our 2016 annual report online.
Questions? Contact [email protected], 303-441-3100.