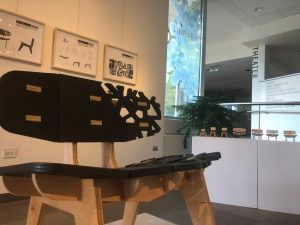 Chair of the Board
Through July 15, Canyon Gallery
A diverse range of Boulder area design professionals were asked to create a chair from a single sheet of 4×8 plywood. The resulting unique designs are an experiment in the emergent micro-production phenomena. Created by library maker-in-residence, Steve Bullock, this exhibition is produced with the resources available at the library's makerspace, BLDG 61.
ORIGINS
Through September 14, Arapahoe Ramp
ORIGINS is a group exhibition about immigration and belonging. Curated by Melanie Yazzie and Jennifer Heath, this show shares artworks created by indigenous or descendants of indigenous people addressing the topics such as land, incursion, aggression, home, empowerment and resistance.ORIGINS is a companion exhibition to PERILOUS JOURNEYS in the Present Box at the Boulder Museum of Contemporary Art through July 28.
SLOW MOVER
Coming Up July 21 – August 19, Canyon Gallery
Presented by artists Matthew and Lisa Bethancourt of Mouse & the Billionaire, this is a series of traditional and interactive artworks that invite viewers to reflect on the slow movement of time. Living with artwork over time can be powerful and is very different than seeing something for a few minutes in a public context. For this reason, selected works will be gifted to interested individuals during the exhibition.