Become a Homebound Program Volunteer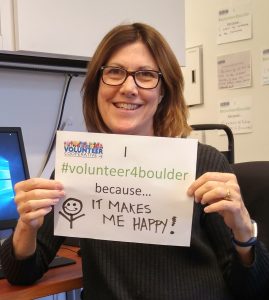 The Boulder Public Library is looking for additional Homebound Program volunteers. This is a unique opportunity to bring the joy of the library to a community member who cannot visit the library in person. Homebound Program volunteers select, pick up and deliver materials to their assigned patrons. There is currently a waitlist for the program and the library needs more volunteers to bring this much-appreciated program to more of the community.
Here are some of the ways Homebound Program patrons say the program makes a difference:
"I have been an avid reader since childhood, and although I am not as mobile as previously, this program has enabled me to continue my favorite activity: reading."
-Barbara
"Sometimes the person who delivers my books picks out something I probably wouldn't have chosen myself and I wind up loving the book and learning something new. I hope volunteers realize how much their time and effort are appreciated. Also, when you are alone a good deal of the time, the human contact is most welcome."
-Joan
"I am an avid reader and the books this program brings me enhance my life by bringing me hours of peace and joy. I love seeing my books at my door every week. It is like getting a birthday gift every week."
-Carol
"I love this program. You are keeping me alive."
-Patron
Volunteer Perspective
Volunteers for the Homebound Program sign up to improve the lives of patrons, but the program often enhances their own lives as well. Some enjoy finding just the right book or sparking an interest in a new topic. Others relish the opportunity to bring a community connection to residents. Most appreciate how lifelong learning enhances quality of life. Here are comments from volunteers about the things they enjoy most about the program:
"I joined the Homebound Program because it gave me a chance to put books in the hands of readers who are not able to obtain books on their own. I have always been a reader and I am happy to help others in this way. I am rewarded by the response of my patron and her gratitude to have a steady supply of books delivered to her every two weeks."
-Phil
"I would recommend others volunteer because it is a very satisfying activity. It is a good feeling to know you are enhancing the life of a person. Reading is a valuable tool to learn about people, places and things – it opens up a new world."
-Joannie
"Homebound gives all patrons a connection with their community that cares for them in this important and generous program."
-Phil
"Not everyone in Boulder owns a car or can walk to the library. This program helps keep people who might otherwise be isolated in touch with the intellectual and emotional life that only books can offer."
-Terzah
"Some Boulder residents are unable to use the library although they may have an interest in what the library offers. Reading can be a very important asset in a person's life."
-Joannie
"I love finding a book that fits someone really well."
-Crystal
The next Homebound Volunteer Training is on Wednesday, July 18 from noon to 1 p.m. at the Main Library. Sign up today to volunteer and learn more about the Homebound Program.