Celebrate! 1000 Books Before Kindergarten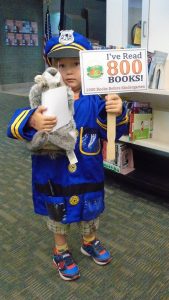 Annual Party
All ages are welcome to join us for a storytime full of songs, musical stories, dancing, and more! Come celebrate the 1000 Books Before Kindergarten program at your local Boulder Public Library. This is a national initiative to read 1000 books before your child begins kindergarten.
The annual party is for anyone currently participating in the program as well as new families that haven't registered yet – everyone is welcome! There will be refreshments, prizes, and all around fun! Children must be accompanied by an adult at all times.
at NoBo Corner Library on Monday, Aug. 21, from 11-11:45 a.m.
at Reynolds Branch Library on Tuesday, Aug. 22, from 10:15-11 a.m.
at Main Library Children's Space, on Wednesday, Aug. 23, from 10:15-11 a.m.
at Meadows Branch Library, on Friday, Aug. 25, from 10:15-11 a.m.