Starting Dec. 8: PINs Required for Online Account Access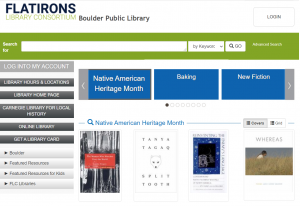 Your personal information matters to us, so we're taking steps to keep it even more secure. Starting Wednesday, Dec. 8, accessing your online library account will require a library card number and PIN (personal identification number) rather than your name and card number. Access to some digital resources will also require your PIN.
Your initial PIN will automatically be the last four digits of the phone number you have on file with the library. We encourage you to reset your PIN after December 8 for increased security. PINs will be slightly different for Boulder Valley School District Student 1 accounts.
Below are answers to frequently asked questions (FAQ). Please contact library staff for more information and assistance.
What's a PIN and why do I need it?

A PIN, or personal identification number, is a 4-digit number used when accessing your online library account (My Account). It provides an extra layer of security for your account and personal information. It guards against unauthorized access to or use of your library card.

How do I get a PIN?

A PIN will be created for you automatically if you have a phone number in your library account. By default, your PIN will be the last 4 digits of that phone number. If you do not have a phone number in your account or need help updating it, please contact the library.

Boulder Valley School District students will use an alternative PIN. Please talk with your school or library staff if you have questions.

Can I change my PIN?

Yes, you will be able to change your PIN to one of your choosing. Visit "Account Settings" in your online account (after Dec. 8) or contact the library for help making the change.

When and where will I need to use my PIN?

Your PIN will be required for you to log in and use your online library account (to see your checked-out materials, edit personal information, place and manage holds, etc.).

Some digital resources, like the library's research databases and OverDrive, will require you to enter your PIN. Other popular resources such as Hoopla, Kanopy, Creative Bug, Brainfuse, and Gale courses will not require a PIN.

For now, you will not need to provide your PIN in the library when requesting account assistance at a service desk, checking out materials at self-check, making computer reservations or logging in to public computers.

What if I forget my PIN?

If you forget your PIN, you will have a few options for resetting it.

Online: You must have a valid email address on file with the library to reset your PIN using the online option. Click "Reset My PIN" on the My Account login page. Enter your library card number and submit it, and you will receive an email with a link for resetting your PIN.

By Phone: Have your library card number ready and call the library. Staff will set a new PIN for you.

In Person: Stop by the library with your library card or a photo ID. Staff will assist you with setting up a new PIN.