Computer Science Education Week
December 2-9, 2017 – #CSedWeek

Computer Science Education Week (CSEdWeek) is an annual program dedicated to inspiring K-12 students to take interest in computer science. Some of the more than 25 programs (most programs require registration) held at Boulder Public Library during CSEd Week are:
Dash and Dot Olympics (Registration Full)
Sodering Simple Circuits (Registration Full)
Saturday, Dec. 2

Getting it right the second time – troubleshooting and debug tips for Arduino projects
Saturday, Dec 2, 10 a.m.
Main Library, Flagstaff Room
Special Monday Storytime: Robots!
Monday, Dec. 4, from 10:15-11 a.m.
Main Library, Children's story space
Build Apps with Bitsbox
Monday, Dec. 4, 4 p.m.
Mt. Sanitas, Main Library
Build apps with Bitsbox and learn how to take your coding to the next level. Bring your own laptop or Chromebook or share one of the library's devices on a first-come, first-served basis.
Robot Alley at Main Library, Children's Story Space
Saturday, Dec. 2, from 2-5 p.m.
Monday, Dec. 4, from 11 a.m.-12 p.m.
Tuesday, Dec. 5, from 4-7 p.m.
Friday, Dec. 8, from 4-6 p.m.
Computer Science Unplugged
Tuesday, Dec 5, 4 p.m.
Boulder Creek Room, Main Library
Learning to code is about learning a method to communicate instructions and to sequence them to generate a result. We have lots of ways to keep this fun, humorous and positive as children learn about the design process and write codes on paper.  Workshop is aimed at children aged 7- 12. The intention is for children to work with their parents. This is not intended as a drop off workshop.
Introduction to 3-D Programming and the Scalable Game Design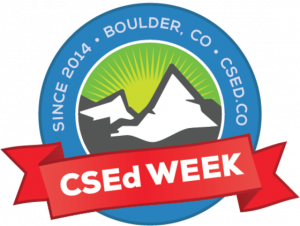 Thursday, Dec. 7, from 4-6 p.m.
Main Library, Arapahoe Room
Fun with Color and Sound with Specdrums
Friday, Dec 8, 4 p.m.
Mt. Sanitas, Main Library
CSEd Week: Capstone
Main Library, Canyon Theater
Saturday, Dec. 9, from 1-3 p.m.
You've been coding all week, maybe all year. Now is your chance to shine and show everyone your work on the big screen in the Canyon Theater! Robots, apps, web pages, Scratch animation, Arduino, Bitsbox, all…
Thank you to ROBAUTO, Boulder Library Foundation, Galvanize, Maker Boulder, and our other partners for making this CSED Week possible!