CSEd EDU – Educator Training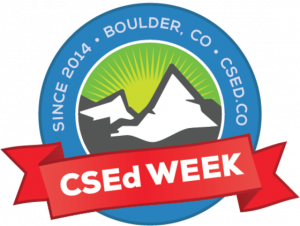 Saturday, Nov. 4, from 2-4:30 p.m. 
Tuesday, Nov. 14, from 4:30-7 p.m.
Educators of all varieties are welcomed and encouraged to attend this free computer science education professional development opportunity. Explore workshops, activity ideas and lesson plans, and the chance to collaborate with local educational technology leaders and innovators on making the Hour of Code stretch beyond CSEd week, and how to help integrate computing and CSEd into many subjects for different ages and experience levels. Registration required. Free workshops, classroom prizes and CDE credits available! For details on the Dec. 2-9, 2017 CSEd Week around Boulder, visit http://csed.co.
Questions? Contact [email protected], 303-441-3100.