June is Immigrant Heritage Month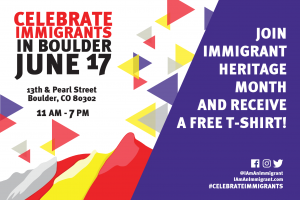 A day-long event will kick off the celebration of immigrants Monday, June 17 at 11 a.m. in front of the Boulder County Courthouse at 13th and Pearl Street. An interactive public art installation will proudly display I ♥ BLDR and participants are encouraged to share their immigrant identity.
Come enjoy food carts, live music, performances, and a speech by the mayor!