Kids' Library Card Art Contest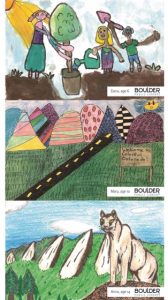 Entries accepted through March 31
Boulder Public Library is holding a kids' art contest to create three new library cards. Entries should reflect the 2018 Summer Reading Program theme: Libraries Rock!
Show us your best library card design using dinosaurs, rocks, or music, or better yet, use all three! Three winning designs will be selected for new library cards, including one from each age range: 7 & under, ages 8-10, and ages 11-14. Drop off artwork and completed contest entry form at any Boulder Public Library location by March 31, 2018.
Full guidelines are available on the entry form.