Library Card Art Contest Winners for 2017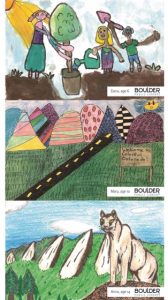 We were thrilled to receive 189 submissions in the 2017 Kids' Library Card Art Contest, and the selection committee had a very tough time choosing a winner in each age group. The entries selected as the winners this year are:
7 & Under age group:  Dana P., age 6
8-10 years old: Mary R., age 10
11-14 years old: Anna H., age 14
These designs are being turned into new library cards to be available starting Weds., May 31, to coincide with the kick-off event for the 2017 Summer Reading Program. This year's theme is: Build a Better World!
Congratulations to Dana, Mary, and Anna! And thank you to all of the wonderful young artists who submitted this year! Please visit our gallery of all of the entries.