Library Card Art Contest Winners 2018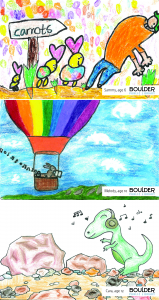 In March, we asked Boulder kids ages 14 and under to submit designs for our annual Kids' Library Card Art Contest based on the upcoming Summer of Discovery theme: Libraries Rock.  Boulder's young artists responded! The library received 285 entries, smashing the previous record by nearly 100 entries! The staff selection committee had the difficult task of narrowing the hundreds of entries down to just one winner in each age group. After much deliberation, we are pleased to announce the winners:
7 & Under age group:  Sammy L., age 6
8-10 years old: Melody C., age 10
11-14 years old: Cara W., age 12
These designs are being turned into new library cards available starting Wednesday, May 30, to coincide with the kick-off events for the 2018 Summer of Discovery.
This year we also wanted to share all the wonderful designs with the community, so library staff are in the process of displaying all 285 entries in the hallway leading to BLDG 61 in the north building of the Main Library. This pop-up exhibition will remain up through the end of May. Be sure to stop by later this week to check out all the wonderful entries!
Congratulations to Sammy, Melody, and Cara! And thank you to all of the wonderful young artists who submitted designs this year!