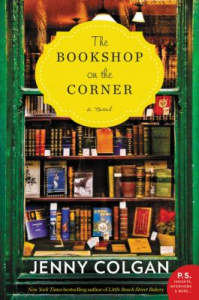 The Bookshop on the Corner by Jenny Colgan
"Oh man, I could totally identify with this book!  Faced with budget cuts and massive closures throughout the country, Nina is forced to rethink her career as a librarian. Does her pure desire to connect the right person with the right book have any place in the new-fangled "media centers" libraries are becoming? After a suggestion at an awkward team-building workshop, she decides to buy a van and turn it into a mobile bookstore. The only problem is, the van is in Scotland. And she's never driven a van before.
"I loved following Nina on her adventure as she uprooted herself to fulfill her life's calling. The author creates a wonderful setting that made me want to visit Scotland. The characters are likable and her worries and thoughts are all too real. Now, this is a beach read.
"Side note: the audiobook is amazing! The narrator is a master of English and Scottish accents. I couldn't wait to commute to work so I could listen.'"
–Keely, Meadows Branch
Get more staff reading recommendations.