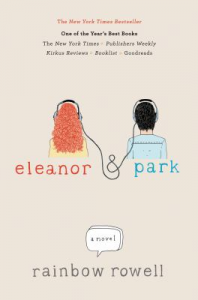 Eleanor & Park
by Rainbow Rowell
Often teenage love stories are filled with enough sap and fluff to make you think you've become cotton candy. "Eleanor and Park", however, captures the light, sweet, butterfly feeling of first teenage love without compromise. The characters are unexpectedly multi-dimensional and face real issues like an alcoholic step-father and being mixed race in a very white part of town. Rowell does a great job and doesn't dumb down the complexity of these issues even though this book is written for a teen audience.
The swapping of mix tapes and comic books made me long for the joy and excitement that comes with first love.
-Elana, Circulation
Thursday, November 12 — Rainbow Rowell is HERE! There's also a chance win tickets to this event with our art and writing contest.