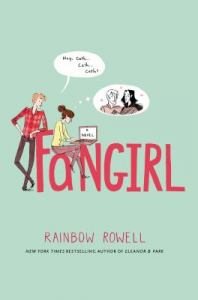 Fangirl by Rainbow Rowell
Get your tickets to see Rainbow Rowell now!

"Rowell has the power to send you back in time to college. I loved that even though my experiences where not the same as Cath's, I identified with her. I remember being a freshman in college, struggling with everything new. Where is the dining hall and how do I get from there to classes to my dorm. How do I make friends with my roommate, my classmates, anyone? I do not write fanfiction but I loved the descriptions of the difference between picking up where an author left off and creating something completely new. I wish that I had a Cath when I was in college, and I can't wait to see what Rowell writes next."
–Melissa, Access Services
Enter our Facebook contest to win one of four copies of Rowell's newest book, Carry On! The author will be speaking at the library on Nov. 12.
Get more staff reading recommendations.