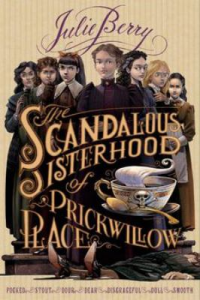 The Scandalous Sisterhood of Prickwillow Place by Julie Berry
Smooth Kitty, Stout Alice, Dour Elinor, Disgraceful Mary Jane, Pocked Louise, Dear Roberta, and Dull Martha are all pupils at St. Etheldreda's School for Girls…but they don't want to be. When their families ship them off to school, they long for independence, and they just might get it when their headmistress Mrs. Plackett and her brother drop dead at the dinner table. What if they don't tell anyone? If the town thinks Mrs. Plackett is still alive, the young ladies can do what they want and not have to return to their families. Brilliant! But how will they make a living? How did Mrs Plackett and her brother die in the first place? Was it murder? How long can they keep this up?
I thoroughly enjoyed this novel! The descriptors before each name were useful in helping the reader keep track of seven main characters; it's also typical of boarding school girls to assign nicknames like these to each other. The dialog between the girls was lighthearted and great fun. And that's what I loved the most: the girls got along. They weren't mean to each other or hurtful. They were all quirky friends trying the pull-off a difficult plan. The audiobook is read by the wonderful Jayne Entwistle, who also narrates the "Sweetness at the Bottom of the Pie" series, which has a similar feel. I would love to see this as a movie!
–Keely, Public Services
Get more staff reading recommendations.