Recommended Read – JLF Edition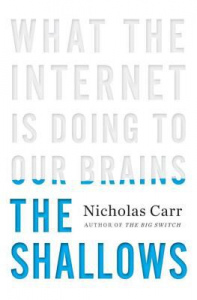 The Shallows: What the Internet is Doing to Our Brains by Nicholas Carr

"Carr is no technophobe. By his own admission, he embraced the revolutions that the Internet ignited in technology, academia, and business. He recognizes the indisputable boon it provides while at the same time advising us to pay attention as the revolution unfolds. His warning to reflect upon these changes mirrors his concern for the very thing we stand to lose: a thoughtful and contemplative mind.
"His argument cites research in neuroscience and new discoveries in how the brain processes memory. The way synapses are formed while learning in an unmediated way—that is, paying full attention to a problem or a text—stand in stark contrast to how the brain functions in the mediated environment of the network, full of its distractions and 'helpful' hyper-linked information. The medium acts on us–changing our brain behavior–just as we act on the medium. An insightful and interesting book!"
–Gina, Collection Development
Nicholas Carr's new book Utopia is Creepy comes out after Labor Day. He will be at the Jaipur Literature Festival on Sept. 24 and Sept. 25.
Get more staff reading recommendations.