Recommended Read – JLF Edition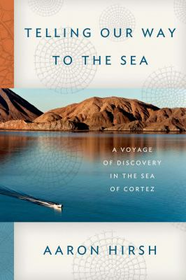 Telling Our Way to the Sea: A Voyage of Discovery in the Sea of Cortez
by Aaron Hirsh

This is a marvelous and masterful work of literature and science. Hirsh's writing has the rare quality of being accessible enough to make you feel at home in his disciplines (ecology and evolutionary biology) while also standing as literature and story. Hirsh makes every facet shine—whether he is explaining recapitulation, observing the social interplay of his students, recapping the history of the Aztecs and the conquistadors, or describing the awe and humility of being present with wildlife—he writes with a poetic touch. I loved the book and found myself reading passages like this one out loud to my spouse:
I would remember him, because encountering a wild animal feels always to me like a silent benediction, and when the animal is unusual—I had never seen a black coyote—the moment of grace feels especially inscrutable and potent. In an openly superstitious age, we took such sights for omens, and though we now resist—wisely, I believe—the impulse to read them that way, such appointments with the unique feel nonetheless distinctly meaningful.
Borrow, buy or beg a copy! The author will be at the Jaipur Literature Festival in Boulder on Sept 19 & 20.
–Gina, Adult Services
Get more staff reading recommendations