Recommended Read June 2016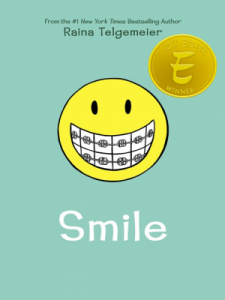 Smile by Raina Telgemeier
This poor girl. I just feel for her! While Raina is racing home from a Girl Scout troop meeting, she trips and knocks out her front tooth and forces her other front tooth up into her gums. She's a bloody mess, and this is the beginning of a years-long dental saga. She copes with scary surgeries, braces, headgear, crisscrossed rubber-bands, fake teeth on a removable retainer, as well as "friendships" and boy drama.
I can see how writing & illustrating this book was therapeutic for the author. Overall, it was great tween fun. If you liked El Deafo, you'll like Smile too.
–Keely, Meadows and Patron Services
Get more staff reading recommendations.
Questions?  Contact [email protected], 303-441-3100.