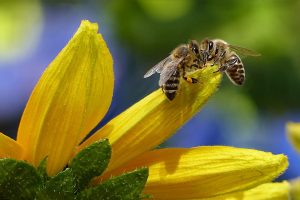 Pollinator Appreciation Month!

Community members, local non-profits and businesses are joining the City of Boulder and the University of Colorado Museum of Natural History to offer a series of fun, informative events celebrating Boulder's third annual Pollinator Appreciation Month. Free events take place for all ages. Highlights of events and activities include:
Events for children, including the Bee Boulder Family Festival on Saturday, Sept. 23, from 10 a.m. to 2 p.m., packed with education and entertainment and two performances by Jeff & Paige, and pollinator-themed storytimes at the library.
 Workshops for kids and adults hosted by Library, including pollinator journaling, beeswax candle-making, native bee house crafting, wildflower seed bomb-making, and a hands-on class learning about the medicinal uses of honey.
Free lectures and workshops about local bumblebees and how Boulder's birds contribute to pollination and other important ecosystem services.
To learn more about Pollinator Appreciation Month and for a full list of event details, please visit www.BeeBoulder.org.