The Sweaters of Sam Barsky & Yarn-fiti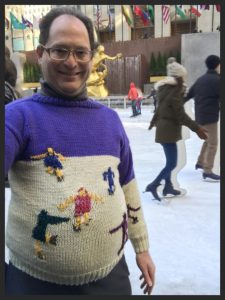 Wish You Were Here: The Sweaters of Sam Barsky
Through Oct 14. Maryland artist and Internet sensation Sam Barsky knits sweaters of iconic landmarks and then photographs himself wearing his work at those locations. For this exhibition of sweaters and travel photos, Barsky created Boulder-specific sweaters, which patrons will be able to "check out" and wear for their own selfie moment at local sites. Sweaters check out for 24 hours; checkout runs Mon-Fri from noon to 2 pm in the Canyon Gallery, with a library card.
Calling All Yarn Enthusiasts for Yarn-fiti
Knitters, crocheters, yarn lovers, we need your help creating a communal yarn installation in the Canyon Gallery. The Yarn-fiti exhibit starts on October 31. Participants are invited to create their own designs or create pieces based on patterns provided by the Library. A Knit-In session is set for Sun, Sept 16 from 2-4 pm at Main Library. All pieces will become a part of the 3-D exhibition, may be sewn together and cannot be returned. Finished pieces can be dropped off at the Main Library anytime before October 21. More info and patterns.