Upcoming Seed to Table events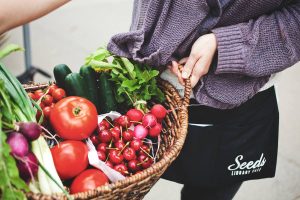 Upcoming Events for All 
Adultology: Dinner from the Garden, an Experiment in Utilization
Seeds Library Cafe staff will demonstrate how to plan and cook a delicious menu using the crops available in the Library's Edible Learning Garden.
Thurs, Aug 9, 6 p.m. at Main. Registration required.
Preserving Summer's Bounty: A Hands-on Family Workshop
This hands-on workshop, led by Seeds Library Cafe, will cover how to safely can or jar fruits and vegetables. Each family that participates will be able to take a jar of their own preserved food home!
Saturday, Aug. 18, 10 a.m. in the Japanese Garden at Main. Registration required
Seed Saving Swap
Come learn about beginner seed-saving techniques, chat with native plant and gardening experts, and trade your saved vegetable, flower, and native plant seeds. 
Wed, Aug 29, 4 – 6 p.m. in the Boulder Creek Room at the Main Library.