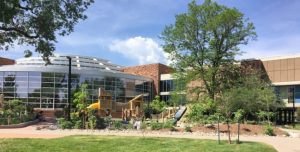 Newly redesigned and ready to be explored!
After years of research, public input and construction, it is time to enjoy our enhanced Civic Area – you helped create!  Completion of the Civic Area Phase One – the park at the core – is a major milestone for our community! The transformation of this 13-acre enhancement area in Boulder's downtown was made possible by the 2014 voter-passed 2A Community, Culture and Safety Tax which invested $8.7 million in the park.
If you haven't had a chance to check out the beautifully redesigned Civic Area outside of the Main Library now is the time to do it!  The redesigned Civic Area opened this winter, but now that the weather has changed we can truly begin to enjoy it.  Enjoy the paths, new playground and stunning creek views.