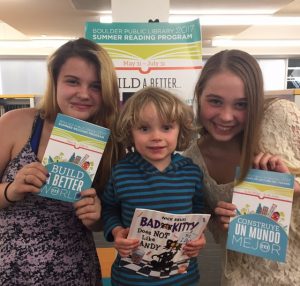 Do you love books and reading? Do you want to be a positive role model for younger kids?
Volunteers will: Register participants and award prizes for Summer of Discovery, share your passion for books by talking to kids about what they've read, and build your customer service skills! 
Volunteer applicants need to be: 
12-18 years old
Responsible
Able to volunteer a minimum of 4 volunteer shifts which would be a total of 8 hours for the summer
Willing to complete the mandatory 1.5-hour volunteer training and watch video tutorials
Most of all, be excited about books and reading and want to help kids and community members discover how much fun reading is!
Apply to volunteer by filling out the volunteer application
Applications due May 23
Questions? [email protected]