Restroom Renovation Project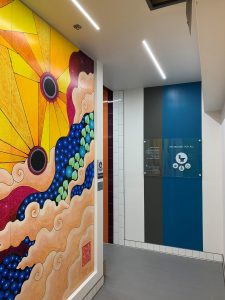 The men's restroom, on the second floor, and the women's restroom, on the first floor as well as the all-gender restrooms are now open on the south side of the Main Library.
The previous public restrooms received greater use than they were originally designed for and no longer meet the functional needs of most users. The restroom restoration project includes colorful murals, upgraded fixtures, increased privacy and comfort for all users.
The new murals for the all-gender restrooms will be created by artists Monica Cervone McElwain and Chris Huang. The Office of Arts and Culture is excited to share progress shots of new murals.
What will the new restrooms look like?
• Colorful art on the walls
• Sinks, lighting and other features create a clean and welcoming space
• Well-designed layout to improve ease of cleaning
• Upgraded finishes, fixtures reduce repair costs and frequency
• All-gender restrooms have room-like stalls with floor-to-ceiling walls
Why renovate the restrooms?
• To improve access, function and ADA compliance
• Bring plumbing, heating and ventilation up to code
• Increase choice with both gender-specific and all-gender options
• Meet requests for a safe and welcoming restroom
• Ensure that no one feels excluded, set apart or unsafe
• Provide families, caregivers and people with disabilities the ability to use the same facility
• Boost security and safety with features of the restroom and increased use
View the architect plans   Send us your questions
Click the image below to enlarge the floorplan.