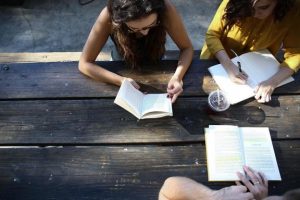 Get involved in this year's One Book One Boulder! The library is looking for community members to form and lead Book Circles with their friends and neighbors.
What's a Book Circle?
Similar to a book club, each circle is a self-organized, group of three or more individuals, committed to reading and discussing "All We Can Save" together over the course of One Book, One Boulder (Aug – Oct 2021). Invite friends, family, neighbors! Your circle can meet in-person or online, up to you!
The library has a discussion guide ready for Book Circle leaders to use. It includes background information on the editors, book reviews and group discussion questions. The discussion questions are taken directly from the All We Can Save project, and are designed to be used flexibly. Depending on how frequently your circle meets, you may choose to use all of the questions as they are outlined per book section, or pick and choose to meet your circle's needs!
Commitment from Leaders:
Minimum of 3 people in a group.
Meet at least once between mid-August and Nov. 4. Use the discussion guide [pdf] as a resource.
Register with the library as an open or closed group (both are welcome!).

Groups identified as open will be shared on our website to increase participation.

Register on the All We Can Save website as a circle.
Encourage members to attend library programs, including the final author talk.
Help us facilitate evaluation with your circle members at the end of the program.
Not ready to start your own? Check out our list of Book Circles accepting new members.