Sensory Friendly Storytimes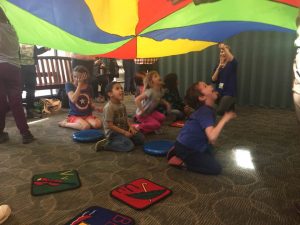 Schedule Change
Starting January 7, 2018, Sensory Storytimes will be the first and second Sundays of the month.
First Sunday: George Reynolds Branch Library
Second Sunday: Main Library
Sundays from 2:30-3:30 p.m.
Join us for specially designed storytimes tailored to meet the needs of youth with sensory issues and their families. These storytimes will engage children through movement, music, stories and play. While open to all children, sensory friendly storytimes are especially geared to children on the autism spectrum, those with sensory integration challenges, or children who have difficulty sitting.
Registration required. Adults need to register as well as participants.
To register, go to the library events calendar and select the corresponding Sunday you'd like to attend. Follow the directions to register your family.
Preparing for your visit
My Visit to the Boulder Public Library George Reynolds Branch
My Visit to the Boulder Public Library Main Library
Learn more about our other storytime programs.
A special thank you to the Boulder Library Foundation for funding this storytime and to our collaborators for providing guidance and volunteers.