Due to security staffing, the Canyon Gallery at Main Library may close without warning.
Please call ahead, 303-441-3100, to ensure the gallery is open before you visit.
Current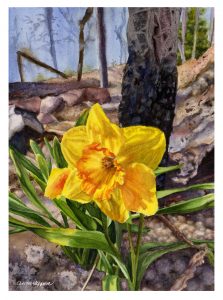 A Tribute to Marshall: Painting My Way Through Healing
Feb. 3 – April 24
Arapahoe Ramp, Main Library
So many in our community have suffered great loss due to the Marshall fire, and painter Anne Gifford's family was no exception. Her "Tribute to Marshall" series emerged as she turned to her painting to work through her feelings of loss and grief. Each painting or giclee print is accompanied by post-fire photographs as well as the back story behind the artwork. She hopes this artwork might help others process and heal since the act of creating these helped her do the same.
Eclipse Imagination
Feb. 8 – March 26
Meadows Branch Library
Stained glass artist Jeremy Walker from Lyons, Colorado explores how eclipses might involve more than meets the eye.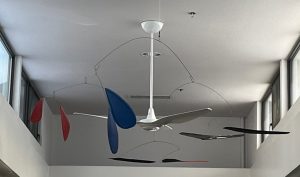 Progression
Feb. 1 – May 31
George Reynolds
Albert Wavering's mobile explores balance and movement in different spaces to inspire curiosity and wonder. Observe how the mobile reacts to air movements generated by people, furniture or an open window.
Our Wishes / Nuestros Deseos
March 1 – July 31
Conoid at Main Library
Alejandra Abad developed "Our Wishes" in 2020 as a response to COVID-19 during her time as an Engaged Arts & Humanities graduate scholar at CU Boulder. The ongoing project has been displayed as hand-made banners throughout Boulder and Denver. This iteration focuses on banners that reflect wishes of joy to coincide with the library's One Book One Boulder series related to the "Book of Joy".
Upcoming
Wise Women and Magnificent Men: Over 50 in Boulder County
April 3 – May 26
Meadows Branch Library
People over the age of 50 have much to share, but in a culture that does not often celebrate getting older, it can be challenging to bear witness to their lives. Through intimate and vulnerable photographs alongside interviews, artist Robin Salcido has been studying this demographic to turn up the volume on the impact they have in our community in both large and small ways.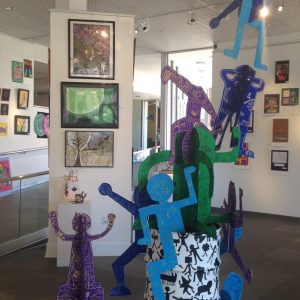 Boulder Valley School District (BVSD)
April 7 – May 7
Canyon Gallery, Main Library
BVSD will once again hold its annual K–8 art exhibition at the Boulder Public Library. Art teachers from all elementary and middle schools will select pieces of art and honor the student artists.
Drive By
April 28 – June 27
Arapahoe Ramp, Main Library
Slow down for a second look. What do you see in these hauntingly evocative pieces? How does it change when you replace the kneejerk of primary focus for the blurry background you may miss in your haste to hurry on with life? Golden-based artist Catherine Poppe McNeil invites you to exhale, explore and exchange the obvious for the subtle in her new series, "Drive By".
Cultivating Resilience
May 12 – June 11
Canyon Gallery, Main Library
Art and science come together in this exhibition by Amy Hoagland, Summer King, and Jullian Young. In collaboration with local artists, scientists, an elementary school, and Hannigan Air Quality Lab. This exhibition reflects on the unique abilities of plants to survive, thrive, and even improve the air around them after crises. Test an air quality monitor, take home an air-purifying plant clipping, and experience a data informed art environment.
Maker Made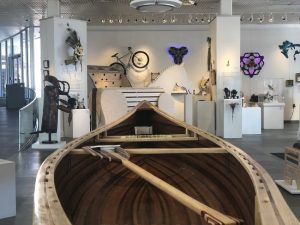 June 16 – July 30
Canyon Gallery, Main Library
The maker movement represents the collective energy and ambition of a community of inventors, designers, engineers, artists, craftspeople and tinkerers. Its ethos is a mixture of DIYer self-reliance informed by open-source learning, traditional craftsmanship, new technology and modern design thinking. Crafted in home studios, garages and local makerspaces – the work of these individuals stirs our imagination and provides a glimpse of what we can achieve as a culture of creators.
Beautiful Formosa: Taiwan
June 30 – Aug. 13
Arapahoe Ramp, Main Library
This photography exhibition showcases the stunning natural beauty of Taiwan's diverse landscapes. From sacred cypress forests to the tranquil Sun-moon Lake, the photos capture the vibrant colors and textures of the island's scenic wonders.