Current Exhibitions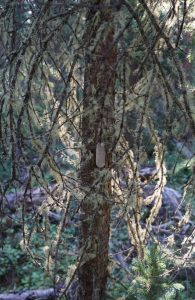 Under- & Overstories
August 9 – September 29, Canyon Gallery
NEST (Nature, Environment, Science & Technology) Studio for the Arts proudly presents work at the intersection of science and art. With more than twenty exhibitors, this collection of work addresses the paradox of scale held within the microscopic and the cosmic, the single-celled organism and the ecosystemic.
Film screening on September 26, 5 – 6 p.m. in Canyon Theater, followed by a reception in the gallery from 6 – 8 p.m.
Climate Ribbon
July 3 – August 28, Arapahoe Ramp
The Climate Ribbon is a global interactive story-sharing ritual for climate hope and healing. The power of the project is rooted in a very simple yet profound question: what do you love and hope to never lose to climate chaos? Come add your story.
Upcoming Exhibitions
A Passage from India
September 1 – 30, Arapahoe Ramp
This exhibition includes paintings by artist Jyotsna Raj, some created before she came to live in the United States, all reflecting the beauty and traditions of India, including folk art and ancient miniatures. Raj began painting as a young child, has no formal education as a visual artist, but, inspired by the arts and crafts  of the untrained women who create art to celebrate the festivals of the Hindu year, she works spontaneously, out of a feeling of devotion, focusing on essential aspects of Indian life, such as the lives of the gods, the exquisiteness of the lotus, the splendor of the peacock (India's  national bird), or the majesty of the elephant.

Japanese Ikebana – Fall Flower Show
October 4 – 6, Canyon Gallery
Explore the world of Japanese Ikebana in this culturally significant exhibition of over 50 works of floral art.  Paired with the flower arrangements will be Japanese scroll paintings from the National Museum Collection.  Demonstration on Japanese Ikebana from 1:30-3:00 p.m. Sunday, October 6, 2019, in the Canyon Theater.
Street Wise
October 11 – December 1, Canyon Gallery
"Street Wise" will show culturally inspired street artwork from diverse perspectives reflecting our current social, political, environmental climate through the eyes of artists. The project will include both work inside the gallery and outside street installations throughout the City of Boulder, as well as workshops and community events. Curated by Leah Brenner Clack.