Current
To Have and to Hoard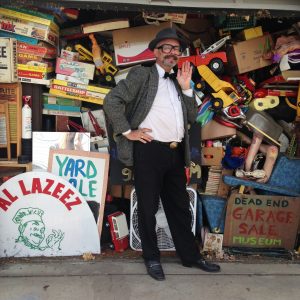 Dec. 9 through Feb. 5
Canyon Gallery at Main and Meadows 
Joel Haertling, an eclectic character and avid collector who grew up in Boulder, worked at the Boulder Public Library for over 30 years. As a collector of ephemera, found art and personal objects, he brings people together through things. This exhibition will showcase a huge, yet comparatively tiny, cross-section of Joel's collections and will also delve into his collection process.   Public Reception: Thursday, Dec. 8, 6 – 8 p.m. in the Canyon Gallery at Main 
Walkabout with Joel Haertling
Thursday, Jan. 19, noon – 1 p.m. Meet in the Canyon Gallery at Main
Joel has a story about every thing in his collection and every place in Boulder. Set off on an informal stroll around the neighborhood and hear all the interesting backstories this town has to offer.
Lived Experience
Nov. 16 through Jan 14
Arapahoe Ramp at Main
Lived Experience is an analog photography project that elevates the stories of people experiencing homelessness to inspire social change. Unboxed Photography worked in partnership with Feet Forward to distribute single-use cameras and provide an opportunity for folks to connect with their creativity and explore visual expression through the art of film photography. The images were captured on 35mm black and white negative film, allowing all exhibition prints to be curated and hand-processed in the darkroom by B Goodell / Unboxed Photography. Lived Experience is inspired by the Through Our Eyes Project, started in 2016 by Jason Williamson. This project is funded by a grant from the Boulder Arts Commission, an agency of the Boulder City Council.