Current
Bigger View(s): Earth, Anthropocene, Beauty
Aug. 19 – Nov. 5
Arapahoe Ramp, Main Library
The artists David D'Agostino, Jennifer Lord, and Noah Travis Phillips create multi-centered, parallel simultaneous realities that celebrate nature, disrupt humanities extractive paradigms and anthropocene legacies, and suggest that another world is possible.
Tonics For Transformation: An Ecosocial Response to Sustain & Support During Wildfire Season
Oct. 14 – Nov. 14
Canyon Gallery, Main Library
This interactive, socially engaged show will allow space for the community to process feelings of grief related to wildfires and provide tools for supporting wellness in a rapidly changing ecology.
Recipes for Change
Oct. 14 – Nov. 14
Canyon Gallery, Main Library
This delicious exhibition features plant-rich recipes by young women with SPEAK for actual meals, for climate awareness, and for arts-based positive social and environmental change.
Upcoming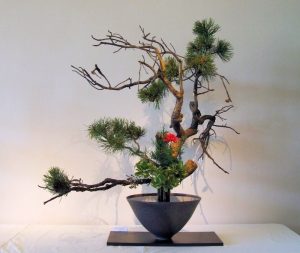 Shinzen no Chika-ra Flower Exhibition – しぜん の ちから
November 20-21, 2021
Canyon Gallery, Main Library
The Japanese have long relied on the "Power of Nature" for its restorative effect on mind and body. The Official Ikenobo Ikebana Society of America Colorado Chapter is pleased to present an Ikebana Japanese Flower Arrangement Exhibition so you too can feel Shinzen no Chika-ra and recuperate from the pandemic. Come and be inspired by over 50 beautiful arrangements featuring trees and flowers that will bring you joy, peace and harmony. Be restored by the power and beauty of nature. Featured on display will also be Edo Period works of art from Japan. Lecture and demonstration at 1:00 PM on Sunday, Nov. 21, 2021. For more information go to IkenoboIkebana.com.
Closed Loop
Nov. 26, 2021 – Jan. 27, 2022
Canyon Gallery, Main Library
Closed Loop is a term used in relation to the circular economy, one in which materials are consistently reused rather than discharged as waste. The exhibition "Closed Loop" features the work of artists, community members and businesses who deploy systems of social justice, sustainability and reuse of fiber, textile and apparel materials.
Closing Reception: Thursday, Jan. 27, 4 to 6:30 p.m. in the Canyon Gallery at Main Libary