Current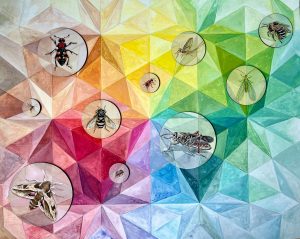 Little Creatures
Aug. 14 – Sept. 28
Canyon Gallery, Main Library
Whether you hate them, love them, or are indifferent — your life depends on insects. Cool Boulder has teamed up with the Endangered Species Coalition and Colorado artists to explore our relationship with invertebrates through art, performance, workshops, community discussions, and more. Learn more about the community workshops and events.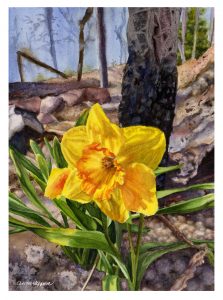 A Tribute to Marshall: Painting My Way Through Healing
Aug. 1 – Sept. 28
Meadows Branch Library
Many in our community have suffered great losses due to the Marshall Fire. Painter Anne Gifford's family was no exception. The "Tribute to Marshall" series has emerged as Anne's feelings of loss and grief turned into art. Each painting or giclee print is accompanied by a post-fire photograph and a short paragraph that tells the back story behind the artwork. Anne hopes her artwork will inspire others to process and heal. The process of creating these has helped her do the same.
Poems Beyond the Page
Aug. 19 – Oct. 5
Arapahoe Ramp, Main Library
This interactive exhibition showcases poetry as a dynamic art form beyond the confines of written words. It aims to foster a playful and connected experience by featuring the voices of local community members and underrepresented Boulder poets. Led by Beyond Academia Free Skool (BAFS), the exhibition also raises awareness about the availability of free poetic and performance education opportunities in the Boulder community. Find related events at https:/bit.ly/BAFS-at-BPL
Upcoming
What Do You Do With a Tail Like This? Celebrating the Life and Art of Steve Jenkins
Oct. 13 – Dec. 3
Main Library in the Canyon Gallery | Opening reception Oct. 20, 5 – 7 p.m.
A vibrant retrospective of the wondrous work of Boulder Caldecott Honor recipient Steve Jenkins (1952–2021), featuring illustrations from his many children's books (some in collaboration with his wife, Robin Page), that describe the marvels and magic of animals and the natural world.
2013 Flood – 10 Years Later
Sept. 1 – Dec. 10
Main near the Canyon Gallery
This exhibition includes audio and visual media of reflections and stories of community resilience, ten years after the Front Range flood of 2013.
Take Flight! – A Celebration of Colorado Wildlife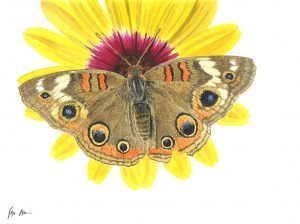 Oct. 3 – Nov. 30
Meadows Branch
All the paintings in "Take Flight" are inspired by walks along local trails and in Colorado's open spaces. Artist Rose Winterton wanted to recreate the everyday wonders that are within reach of all of us, whether that be the beauty of a tiny butterfly or the majestic sight of a Great Horned Owl.
Quiet Country
Oct. 10 – Dec. 1
Arapahoe Ramp, Main Library
"Quiet Country" explores our relationship with nature as a complicated response to the overstimulated cities and suburbs that we navigate. Folded paper quilts both magnify and obscure certain elements of recognizable icons, blurring distinctions between the organic and the manmade. Artist Josh Hughes activates the landscape as an escapist's vision of America, interrogating our intentions of wanderlust and its inherent mystery.