District Board of Trustees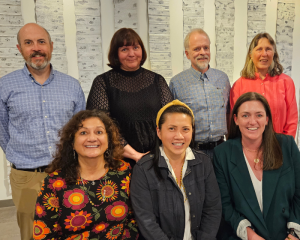 Next Special Meeting
Tuesday, September 26, 2023
Canyon Meeting Room, Main Library 1001 Arapahoe Ave.
Meeting Schedule
The Library District Board of Trustees holds its regular meeting on the third Tuesday of the month from 6 – 8 p.m. in the Canyon Meeting Room in the Main Library.
For May – October, weekly special meetings will be held on Tuesdays beginning at 5 or 6 p.m. in the Canyon Meeting Room. These meetings will address the setup of governance structures and begin work on the IGA. For more information about these meetings, please see the weekly agendas.
Bylaws and Handbook
Board of Trustee Responsibilities
The Boulder Public Library District was formed by a vote of the people on November 7, 2022. The Boulder Public Library District's governing body is the Board of Trustees. The Board of Trustees manages the budget, conducts long-range planning, sets policies for the library district, hires a Library Director to put in place the policies, and oversees the library system. The Trustees also establish guidelines for their own operations. A complete list of their responsibilities is in the Statutory Obligations of a Library District Board of Trustees [PDF].
This initial Board of Trustees will create governance infrastructure for the library district. They will also represent the library district in negotiating an intergovernmental agreement. This agreement will address the transfer of assets and liabilities held by the City of Boulder for the benefit of the Boulder Public Library to the library district.
Library District Trustees are volunteers, appointed by the Boulder City Council and the Boulder County Board of Commissioners. Trustees are expected to be committed to the long-term financial and programmatic success of the library district. Library district trustees must be at least 18 years of age and reside within the legal service area of the library district. The Colorado Public Library website & Trustee Handbook has more information and resources.
The initial Library District Board of Trustees was appointed by a selection committee made up of two Boulder City Council members and two Boulder County Commissioners. These appointments were ratified by the Boulder City Council and the Board of County Commissioners on May 4, 2023.
Pursuant to statute, a total of seven trustees were selected to serve staggered terms: one trustee for a one-year term, one for a two-year term, one for a three-year term, two trustees for four-year terms, and two trustees for five-year terms.
Board Members
Joni Teter – President, 1 year term, ends 2024
Joni Teter is a lifelong library nerd.  She spent her professional career in the environmental arena, working in the areas of ecological restoration, climate change and sustainability.  She has served on a variety of community boards over the years, including Eco-Cycle, the Boulder Chamber's Environmental Committee, PLAN-Boulder County, the Colorado Bar Association, Shadowcliff, the Boulder Planning Board, the Boulder Urban Renewal Authority, the Boulder Public Library Commission, the Boulder Library Foundation and Boulder Library Champions.  She is a Fulbright Scholar (Egypt) and a lifelong Egyptophile – a passion born at her local public library many years ago.
Benita Duran – Vice President, 5 year term, ends 2028
Benita Duran reads a lot of books about governance, democracy, changes in cities and communities daily in the work she does at the National Civic League.  She has broad experiences and expertise in community engagement, planning, organizational programming, and economic development at local, regional, and national levels.  She has been a professional administrator in local governments in Colorado and has worked with communities as far away as Pietermaritzburg, South Africa.  She has been a Vice President for Government Affairs for a global environmental engineering firm and a program executive for Denver Public Schools; and has managed her own consulting business for over 7 years. Benita is a 5th generation Coloradan, born in Pueblo, CO.  She has been an active community volunteer in numerous non-profit boards in Boulder for decades.  She has been a Library Commissioner for over two years, appointed in 2021.  She recently completed a nine-year term at Boulder Community Health and is a past chair of the Boulder Community Foundation.  Some day she hopes to publish her own collection of short stories sharing her experiences in community building.
Sylvia Wirba – Secretary/Treasurer, 4 year term, ends 2027
For Sylvia Wirba, libraries are magical places.  Like many bookworms, her obsession with books and reading began when she was a small child visiting her local library.  She is also a member of the Colorado Housing and Finance Authority Board, the Boulder Library Commission, and a current Commission liaison to the Boulder Library Foundation.  Sylvia is an attorney where she primarily works with indigenous peoples regarding tribal and federal housing.
Jennifer Yee, 5 year term, ends 2028
Jenn Yee is an HR and people operations professional with a focus on organizational development, talent management, leadership coaching, and career growth.  She is passionate about the power of libraries, books, and stories to create strong and inclusive communities.  Jenn earned her MBA from the Kellogg School of Management, and her BA from Williams College.  She lives in unincorporated Boulder County with her husband and two children, who are always asking their mom to take them to the library.
Doug Hamilton, 4 year term, ends 2027
Doug is a community organizer who believes in free, open, and welcoming public spaces, a more participatory society, and building community through relationships.  He is a US military veteran who served in Afghanistan as a civil engineer, and now, a corporate lawyer by trade and a hobbyist op-ed writer in local papers.  He enjoys the outdoors, good books, and spending time with his family.
Cara O'Brien, 3 year term, ends 2026
Libraries have played a central role in Cara O'Brien's life.  Cara learned to read around the age of three and has been a voracious reader ever since, relying on libraries to keep her supplied with books.  She gained a deeper appreciation for the public library as a community resource that extends far beyond books when she worked as a newspaper reporter in Northern Colorado. And throughout her three years in law school, Cara spent more time in the Georgetown Law library than anywhere else.  Cara lives in the foothills in unincorporated Boulder County, practices law for an electric and autonomous vehicle company, and previously served as a member of the Library District Advisory Committee.
Sam Fuqua, 2 year term, ends 2025
When he travels, Sam Fuqua likes to visit libraries near and far.  He's worked as a public radio journalist and nonprofit manager, including many years on the staff of KGNU, the community radio station in Boulder & Denver.  He served on the Boulder Library Commission and was a member of the Boulder Library Champions.  From 2011 to 2019, he was an elected member of the Boulder Valley Board of Education, including two years as board president.  Other board service includes the Boulder Library Foundation, Open Media Foundation and the Boulder Municipal Employees Federal Credit Union.