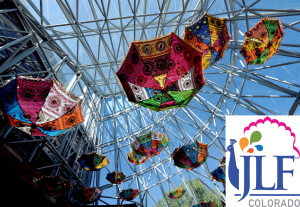 Now recruiting volunteers for the Jaipur Literature Festival Sept. 21-23!
The 2023 Jaipur Literature Festival (JLF) will be held at the Main Boulder Public Library September 21-23, 2023.
We still need volunteers, but the online registration has closed. If you are interested in volunteering at the festival, please call Sophia Surage 303-441-3409 or just come to the festival at the Main Boulder Library, 1001 Arapahoe Ave, Boulder on Friday or Saturday between 9:30 am and 4:30 pm. We can use your help!
For all other library volunteer roles besides the Jaipur Literature Festival, please visit https://boulderlibrary.org/volunteer
Questions: 303-441-3409 or [email protected]
Learn more about JLF Colorado volunteer opportunities by browsing the various volunteer roles using the links below or click here to read all of the volunteer job descriptions.
Minimum age to volunteer at JLF Colorado is 15 years old. Some of the best volunteer roles for teens are Registration Volunteer, Event Greeter and Venue Usher.
Learn more about the Jaipur Literature Festival (JLF) Colorado on their website.
Questions? Email [email protected]
For Current Volunteers:
Thank you for volunteering with us! Access the City of Boulder volunteer portal Count Me in Boulder to find more volunteer opportunities and enter your volunteer hours.
Additional citywide volunteer information and resources can be found at Volunteer Opportunities | City of Boulder (bouldercolorado.gov).