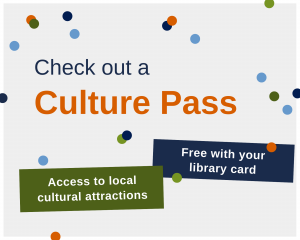 Reserve a Culture Pass from the library and explore Colorado's art, history and cultural attractions for free! Culture Passes can be checked out online using a library card.
Please read your confirmation email carefully for details. Pass benefits and the number of visitors each pass will admit varies by destination:
Butterfly Pavilion: 1 visitor; $5 entry for up to three additional visitors
Denver Museum of Nature and Science: 7 visitors ages 3 and up; Children 3 and under do not need a ticket.
Dinosaur Ridge: 4 visitors
Museo de las Americas: 4 adults or young adults; Children under 12 do not need a ticket.
Museum of Boulder: 1 visitor
WOW! Children's Museum: 1 adult and 1 child; limit only 1 pass per year (365 days)
FAQ
What is a Culture Pass?
Each pass is a digital reservation any library cardholder can check out for free entry to local cultural institutions. Using grant funds, Boulder Public Library pays for memberships at these locations to expand access to cultural destinations for all library cardholders to enjoy for free.
Note: Passes are not valid for most special exhibitions/events. Some museums may require additional reservations. Check your booking confirmation carefully for details.
How do I reserve a Culture Pass?
You will need a library card number to check out a pass. Reserve passes online up to 30 days in advance. After you reserve a pass, please save your digital confirmation receipt.
The ticketing website and confirmation emails are only available in English.
How do I use my Culture Pass?
When you reserve your Culture Pass, your email confirmation serves as your entry ticket. Print your confirmation email or display it on your phone upon arrival for entry.
Unless otherwise specified on the reservation page, there is no need to register at your destination.
What if I can't visit the destination on the date I selected?
Passes are only valid for the date printed on your confirmation and cannot be renewed.
To cancel or change your Culture Pass reservation, call the library at 303-441-3100 or go to My Passes on the Culture Pass page.
Funding for the Culture Pass program at the Boulder Public Library is provided by a Colorado State Library grant.