Current Exhibits
Maker Made: Works Presented by BLDG 61
February 9 – March 29, Canyon Gallery
This show celebrates the work of designers, scientists, artists, engineers, and craftspeople that comprise our maker community. Showcased work will include printed materials, three-dimensional objects, kinetic, and interactive projects.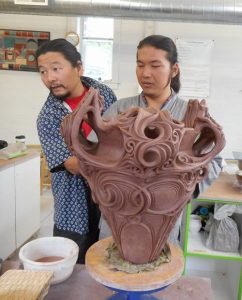 A Celebration of Jomon
February 12 – March 31, Arapahoe Ramp, Main Library
Learn about the artists working to resurrect ancient Japanese pottery traditions from the Jomon period – a peaceful era that lasted for ten thousand years and is making a revival in modern Japanese art. This exhibition is in collaboration with Studio Arts Boulder, coinciding with a special program series with visiting Japanese Jomon artists.
The Jomon artists will be doing a drop-in artist demonstration from 2- 4:30 p.m. at the Main Library on Monday, March 11th.
Upcoming Exhibits
Boulder Valley School District K-8 Art Exhibit (BVSD)
April 5 – 28, Canyon Gallery
The Boulder Valley School District will once again hold it's annual K-8 Art Exhibit at the Boulder Public Library. Art teachers from all elementary and middle schools will select six pieces of art and honor the student artists who created what art at the reception. All are welcome to enjoy this event which has been an important part of advocating for art in public education over the past decades.
A Slow Flash of Light
April 6–May 27, Arapahoe Ramp
Jack Collom (1931-2017) began teaching in poets-in-the-schools programs in the mid-1970s nationwide (and abroad), a practice he continued for the rest of his life. He taught thousands of school children of all grades in Boulder County and wrote the book Moving Windows about teaching poetry to children. This exhibition is a tribute to his work, in conjunction with the BVSD showcase in the Canyon Gallery.