Current Exhibits
Boulder Valley School District Annual Showcase
April 6 – 22, 2018
An annual celebration of work created by elementary students from across the Boulder Valley School District.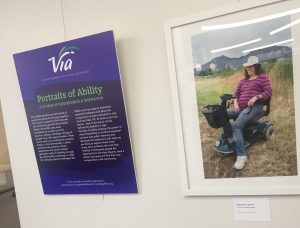 Portraits of Ability
March 21 – June 2018
Arapahoe Ramp, Main Library
In Portrait of Ability, artist Sophie Klafter's imagery employs the power of storytelling to compassionately show people striving not to be defined by age or disability, to transcend personal limitations enabling their unique spirits to shine brightly through in their portraits as they live their dreams. Mobility gives people the means to live their dreams; services, like Via, help people in our community live their dreams.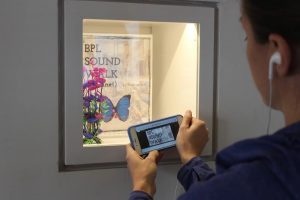 Sound Walk (for Janet) by Nathan Hall
Dates: Ongoing
Maker-in-residence and composer Nathan Hall created a site-specific audio tour for the Main Library's south building. Listen to the tour on your own device by visiting: tiny.cc/bpltour. The walk takes about 14 minutes.
Discover Earth
Dates: Through May 20 at the Main Library and Carnegie Library for Local History
Learn about our complex global system of interacting subsystems—rock, water, air, and life in the Discover Earth Exhibit. Gain an understanding that Earth's global system changes on short and long-term timescales. Explore the water cycle and the important role that water plays in the earth system and our weather. And learn how to become a thoughtful steward of Planet Earth. Discover Earth, a traveling exhibition for libraries, is part of the STAR Library Education Network led by the National Center for Interactive Learning at the Space Science Institute. It funded by a grant from the National Science Foundation.
Upcoming Exhibits
Facing Rocky Flats
April 28 – June 10
The former Rocky Flats nuclear weapons site is slated to open as a national wildlife refuge in the summer of 2018. Preceding the planned opening, this group exhibition looks at the past, present, and future of this contentious site.
Chair of the Board
June 15 – July 15, 2018
Chair of the Board examines the influence of publicly available maker technologies on contemporary design practice. A diverse range of Boulder area design professionals are each tasked with creating a chair from a single sheet of 4×8 plywood. The resulting unique designs are an experiment in the emergent micro-production phenomena. Created by library maker-in-residence, Steve Bullock, this exhibition is produced with the resources available at the library's makerspace, BLDG 61. Come see how designers are tackling this archetypal design challenge and how these technologies can affect consumer market manufacturing.
Slow Mover
July 21 – August 19, 2018
Slow Mover is a series of artworks, using both traditional and interactive media to invite viewers to be slow, contemplate the passage of time and how we choose to move through it. The exhibition includes participatory works experienced over time and time-based interactive media. Presented by artists Matthew and Lisa Bethancourt.
Ikebana Showcase
October 19 – 21, 2018
The Ikenobo Ikebana Society of America presents their annual exhibition of ikebana flower arrangements.
Critical Thinking & The Art of Science
October 26 – December 9, 2018
Short attention spans, misinformation, and instant gratification are defining characteristics of our current culture. The need to slow down and think critically is more vital than ever. This exhibition will partner 8 scientists with 8 artists to use technologies, visual art, sound and structure to artistically convey important scientific concerns. Related programs, including a critical thinking summit, are being planned. Presented by Robby Holb.
Art of Data
December 15 – February 3, 2019
The City of Boulder has a renewed focus on innovation that is being driven by a citywide effort to enhance data-driven decision-making and innovation. This show will celebrate art created by the community, inspired by the City of Boulder's Open Data Catalog and other public City data. Visit our Art of Data Open Call page to learn about how to get involved.