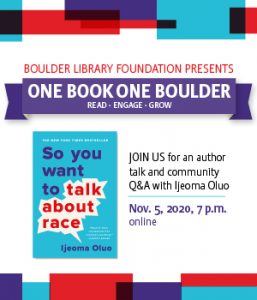 Join us for One Book, One Boulder: Read, Engage, Grow. A new program set to bring Boulder together through the shared experience of reading and discussing the same book.
This year's selection is 'So You Want to Talk About Race' by Ijeoma Oluo. A broad range of programs will take place from late July to November, supporting community members in learning, reflecting, and taking action on the topic of racial equity.
What is One Book?
A "One Book" program seeks to bring the community together through reading and discussing a single book. The American Library Association refers to the program as a way to "create a shared experience of reading among a wide spectrum of people."
How do I get involved?
Read or listen to the book.
Spread the word and encourage neighbors, friends and family to join. They can live near or far!
Attend an online program to engage with other community members or organize your own discussion.
Join Our Online Events
Author Talk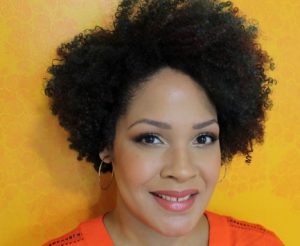 "So You Want to Talk About Race" with Ijeoma Oluo
Online | Thursday, Nov. 5, 2020, 7 p.m.
Register Now!
Join Ijeoma Oluo reflecting on her book "So You Want to Talk About Race" as part of One Book One Boulder, offering support for community members in learning, reflecting and engaging on the important topic of racial equity in the City of Boulder and beyond.
Program Highlights
Other Reading Suggestions
One Book One Boulder Press Kit
Thank you to our sponsor