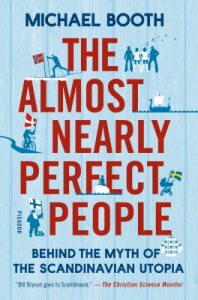 The Almost Nearly Perfect People: Behind the Myth of the Scandinavian Utopia by Michael Booth
"I enjoyed this one. I married into a family of part-Scandinavians (or at least they self-identify with Scandinavians) and have long pondered what it is that draws me to them. What drew me to the book was the title, because there IS a certain Utopian mystique around that part of the world.
The author is a Brit married to a Dane. He writes about the individual Scandinavian countries, looking at cultural quirks, politics, history, and relationships between countries with a positive attitude and humor. I particularly enjoyed his little lecture about the inappropriateness of ethnic jokes before letting us in on some of his favorites. Sometimes there was excessive detail, but overall I found it a very entertaining read. And it confirmed that Scandinavians are, as in my family, Almost Nearly Perfect, just like the rest of us."
–Laurie, BoulderReads
Get more staff reading recommendations.