Skaters to land new tricks soon at Main Library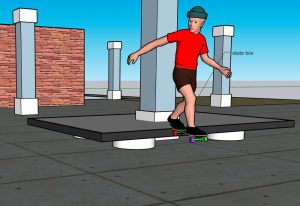 After installing a new skate park at Valmont City Park, installing a mini skate area at Howard Heuston Park, and expanding the skate park at Scott Carpenter Park last year, the city's not done putting in skate features in where the community can use them. Next stop for your crew: the Main Library.
Starting mid-February, the city is planning to install several skate features under the library next to the creek (the library underbelly), adjacent to the Civic Park playground. The elements include a skate bank, box, and rails.
The installation of these skate features will activate the space and complement the community programming happening in the area. Any skating going on will not interfere with pedestrians passing through or any community activities. The features will also be flood-resistant. During construction, there may be some impacts to the paths around and under the library, as well as noise and dust.
"The installation of these skate features continues our efforts to provide low-cost, accessible recreation opportunities for all ages in all parts of town, especially for youth and teens," said Parks and Recreation Director Ali Rhodes. "It's also part of our ongoing efforts to provide positive activity in Boulder's Civic Area."
Weather permitting, construction should take about two weeks to complete and is scheduled to begin in February 2022.