Virtual Family Play Festival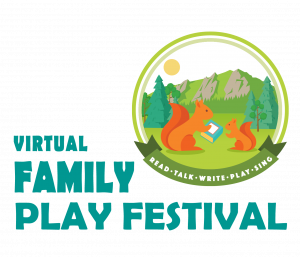 (español)
Sunday, October 18 – Friday, October 23
Special program for families with young children
Thank you for your interest in the Virtual Family Play Festival kits. We're sorry, all available kits have been reserved at this time.
All kit activities can be done with materials from your home for print and video instructions.
Read/Leer
Talk/Hablar
Write/Escribir

Festival Virtual Jugando en Familia
Domingo, 18 de Octubre – Viernes, 23 de Octubre
Familias con niños pequeños
Gracias por su interés en participar en el Festival Virtual Jugando en Familia. Debido a que este Festival ha sido todo un éxito, nos disculpamos ya que todos los paquetes disponibles han sido ya reservados y desafortunadamente no tenemos mas por el momento. Sin embargo, todos los materials que contiene este paquete para realizar las actividades de jugando en familia, ustedes pueden realizarlos con materiales que tengan en su hogar.
Empiece las actividades con el material que contiene su paquete con estas
demostraciones en vídeo
.