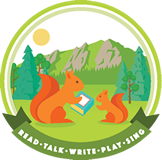 (español)
Saturday, October 26th
10 a.m.-12 p.m.
Drop in and play, sing, read, write and talk at activity stations throughout the library. Families with young children (birth to age 5) enjoy interactive early literacy activities and take home crafts and great prizes as well as new ideas for family fun. Each station included special activities for babies.
Early Literacy: What children know about reading and writing before they actually read or write.

Get started with these resources!
Find out more about Early Literacy:

Festival Jugando en Familia
Sábado, 26 de Octubre, 10 a.m.-12 p.m.
Pase y juegue, cante, lea, escriba y hable en estaciones de actividades a lo largo de la biblioteca. Las familias con niños pequeños (recién nacidos hasta 5 años) pueden disfrutar de actividades interactivas de alfabetización temprana y llevarse a casa artesanías, premios e ideas nuevas para divertirse en familia.
La alfabetización temprana: Lo que los niños saben sobre leer y escribir antes de saber leer y escribir.
¡Comience con estos recursos!
Obtenga más información sobre la alfabetización temprana: