Main Menu
The Main Library is open with limited onsite services including self-service holds pickup. The Meadows Branch Library continues to offer holds carryout appointments. Materials returns are accepted at Main Library and Meadows Branch Library.
Carnegie Library for Local History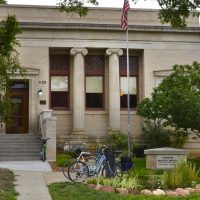 1125 Pine Street
,
Boulder
,
CO
80302
Phone: 303-441-3110
Library Closings
Events Calendar
Meeting and Study Room Information
Wednesdays additional special appointment hours 10 a.m. – 1 p.m.
Call 303-441-3110 to schedule an appointment.
Discover our local history collection and one of a kind Maria Rogers Oral History Program.
Learn the history of the Carnegie Library.
---
Parking
Starting January 2, 2016, free parking will no longer be available.
On street parking is limited.