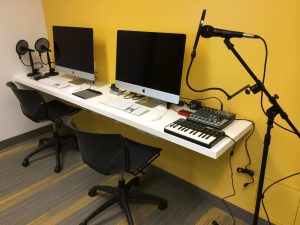 The Digital Foundry is an AV studio and technology lab for teens located at the Main Branch of Boulder Public Library Teen Space.  Funding for the equipment was generously provided by The Boulder Library Foundation.
The space is available for teens entering 6th grade through 12th grade. Our hours are:
Monday: 2 p.m. – 6 p. m.
Tuesday, Wednesday and Thursday: 1 p.m. – 7 p. m.
Friday and Saturday 2 p.m. – 5:30 p.m.
Sunday: 1 p.m. – 6 p.m.
Digital Art

Raster, Vector, 3D, and Animation. Use our lab to create all kinds of digital art.

Video

The Foundry has digital cameras, audio recording equipment, portable lighting, and 2 green screens to get you going.

Music & Recording

Midi Keyboard, Mixers, Microphones and more. We've got a recording space for you.

Photography

Grab one of our DSLR cameras and a lighting kit then get snapping.
Software and Equipment Available
Software
Equipment
Blender
Sketchup
Sculptris
Arduino
Scratch
iMovie
Garage Band
Adobe Dreamweaver CC
Adobe Photoshop CC
Adobe Flash CC
Adobe Premier Pro CC
Adobe After Effects CC
Adobe Audition CC
Adobe Illustrator CC
Adobe InDesign CC
1 iMac Computer
Electric Guitar
4 recording microphones with voice screens
Midi Keyboard
Behringer Sound System + UControl
Headphone Amp
Wacom Tablet + Pen
DSLR Camera – Canon T3i
TASCAM DR-05 Recorder Kit
Sparkfun Inventor's Kit
Little Bits Electronics Kit
Tripod
iRig
3 Photography Lighting Units
Portable + Built in Green Screens