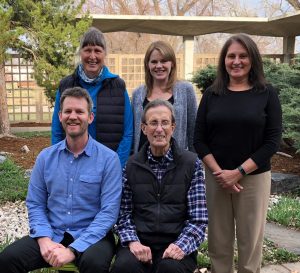 Next Meeting:
Saturday, March 9, 2019
OSMP Hub, 2520 55th Street
The Library Commission was established in 1917 in the Charter of the city of Boulder, Colorado: Article IX: Advisory Commissions, Sections 130, 132-134.
The function of the commission is further defined in the Boulder Revised Code (BRC), 2-3-8 Library Commission.
The library commission of the City of Boulder consists of five members appointed by the city council for five-year terms.
The City Charter gives the Library Commission the following powers:

Adopt bylaws, rules, or policies for its guidance and governance;
Provide advice to assist in preparation and revision of a master plan for the development and maintenance of a modern library system within the city;
Review annually the library budget prepared by the library director prior to its submittal to the city manager and make recommendations regarding approval or modification of the same;
Review periodically the library director's operational service plans and make comments and recommendations;
Make recommendations to the library director and the city council on library facilities, including capital improvements, maintenance of existing facilities, and need for new facilities;
Review the library director's annual report and make comments and recommendations;
Represent the library to the community and the community to the library with the goal of building awareness, understanding and support;
Take steps as the library commission may deem feasible to encourage grants or gifts in support of the library; and
Oversee specific monies within the Library Fund that originate from gifts, bequests or donations.
View the Library Commissioner Job Description [PDF], 2019 Library Commission Handbook [PDF] and Library Commission Priorities for 2019 [PDF].
Commission Members
Director of Library & Arts – David Farnan,  303-441-3104
About the Commissioners

Jane Sykes Wilson
Jane Sykes Wilson is a native of England and life-long library devotee. She has a master's degree in Communication. After spending several years working in University administration she now works for Wilson Wealth Management. Jane has previously served on the Boulder Library Foundation and various other community Boards. She lives in Boulder with her husband and young children. Her passions include skiing, hiking, reading, traveling, and renovating houses.
Juana Gomez
Juana Gómez practices architecture in Boulder as a founder of Lawrence and Gómez Architects. Her work with L+G and other firms encompasses residential, commercial, and institutional projects such as the Eldorado K-8 School, the Denver Central Library, and numerous custom houses. Sustainable buildings are a focus of her work; she holds certifications in LEED and Passive House. As adjunct faculty at CU-Boulder in architecture and environmental design, she has taught courses in design, graphics, and color theory.
Juana has participated in several boards and volunteer work including the American Institute of Architects, the U of C Foundation, Habitat for Humanity, and the Boulder Valley School District's Capital Improvement Planning Committee. Last year she helped launch the inaugural Boulder Green Home Tour with the Colorado Green Building Guild.
Joel Koenig
Joel Koenig worked as a CPA at Deloitte(the largest accounting and consulting firm in the world, 220,000 staff), and retired as a senior partner after 30 years. He lead offices and served on the management committee. For 20 years, Joel was a retrained executive search consultant.
He has been an active volunteer, serving with Bridge House, Boulder Public Library, BoulderReads, City of Boulder Open Space & Mountain Parks, Boulder County Jail, Colorado Alliance of Environmental Educators–Board member and treasurer, Jaipur Literature Festival, and the Boulder Library Commission. He received his bachelor's degree from New York University in Accounting, as well as his master's of business administration (MBA). He has served on many boards (corporate and not for profit) and civic organizations prior to moving to Boulder in 2010.
Joni Teter
Joni Teter is a lifelong library nerd.  She spent her professional career in the environmental arena, working in the areas of environmental restoration, climate change and sustainability.  She has served on a variety of boards over the years, including Eco-Cycle, the Boulder Chamber's Environmental Committee, PLAN-Boulder County, the Colorado Bar Association, Shadowcliff, the Boulder Planning Board and the Boulder Urban Renewal Authority.  She is a Fulbright Scholar (Egypt) and a lifelong Egyptophile – a passion born at her local public library many years ago.