Next Meeting:
Wednesday, October 4, 2023, at 6 p.m.
Canyon Meeting Room, 1001 Arapahoe Ave.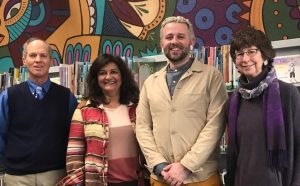 The Library Commission was established in 1917 in the Charter of the city of Boulder, Colorado: Article IX: Advisory Commissions, Sections 130, 132-134. The function of the commission is further defined in the Boulder Revised Code (BRC), 2-3-8 Library Commission.
Director of Library – David Farnan,  303-441-3104
Commission Members
Steven Frost
Steven Frost is an independent artist and instructor in the Department of Media Studies at CU Boulder. His research focuses on queer history, pop culture, and educational development in DIY community spaces. Since 2016 Frost has hosted a monthly event called the Colorado Sewing Rebellion at the Boulder Public Library's maker space BLDG 61. He recently performed at the Museum of Craft and Folk Art in LA, the Arlington Arts Center in Arlington, VA, and the Denver Art Museum. Frost is a co-founder of CU Boulder's Experimental Weaving Residency and a 2018 grant recipient from the Center for Craft Creativity and Design. Frost is also a recipient of several other honors including the Lenore G. Tawney Fellowship and Luminarts Cultural Foundation Fellowship. Frost holds a BFA from Alfred University and an MFA in Fiber and Material Studies from the School of the Art Institute of Chicago. He currently lives in North Boulder with 2 cats, a dog, and his husband.
Benita Duran  Benita Duran is a fifth-generation Colorado native, rooted in southern Colorado on family land in Penrose and later in Pueblo, where her father, a carpenter, built the home her family lived in during her childhood. She grew up near the spot where the library's Bookmobile would make monthly visits to offer books to children in the neighborhood who did not always have access to the one main library across town. She has been a long-time supporter of public libraries and their community programming, and she considers herself to be a voracious reader. She earned an undergraduate degree in economics from University of Denver and during those four years worked part-time in DU library.
While working for the Mayor of Denver early in her local government career, she earned a master's degree in Public Management from the University of Colorado. For over 30 years, she has worked in the local government arena, for municipalities, private government contractors and public education systems. She was an assistant city manager for the City of Boulder in the mid-1990s and since 2015 has managed her own small business, Duran Public Affairs, focused on a range of public and private economic development initiatives. She has lived in Boulder since 1993 and has been an active board member of many local, state and international organizations; she presently sits on the board of Boulder Community Health and Boulder County Arts Alliance. 
Sylvia Wirba is an Attorney and Partner in the law firm Wagenlander and Heisterkamp LLC. She primarily works with Native American tribes on housing matters. She is an enrolled member of the Diné (Navajo) Nation. She is a voracious reader and has run a monthly classics book club in Boulder for more than a decade. Her love of libraries began when she was a child and she has remained a library devotee throughout her life. She grew up in Cortez, Colorado, and attended Fort Lewis College in Durango, Colorado where she received a BA with a major in Philosophy, summa cum laude. In 2020 she received a Distinguished Alumni award from Fort Lewis. She received her Juris Doctor (JD) degree from the University of Colorado School of Law with an American Indian Law Certificate. She is also a member of the Board for the Colorado Housing and Finance Authority. She lives in South Boulder with her husband and a home full of books.  
Miriam Gilbert is a long-time leader in the US publishing community with over 40 years of experience in print and digital publishing. Bucking the tide, she moved West for her first job in the industry and never looked back. She has worked with libraries and schools her entire career to help create future-ready and democracy-ready learners.  She is now Vice President for Rosen Digital, a K-12 educational publisher, a proud Coloradan, and an active volunteer with EFAA (the Emergency Family Assistance Association) working on issues of family homelessness and food security. She is an avid hiker, gardener, and photographer.