Conversation in English Groups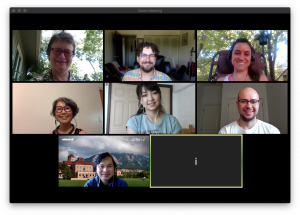 Would you like to practice speaking and listening in English?
Conversations in English (CIE) groups at Boulder Public Library provide English learners with opportunities to practice their speaking and listening skills in a friendly and informal environment. This program is for individuals 18+ who live or work in Boulder County.
Most groups meet online using Zoom video chat software. On Tuesday afternoons, a group meets in-person at Meadows Branch Library. Adult learners can attend the free groups any time. There is no homework. Just sign up (no registration required for in-person) and practice your English with others!
---
Groups are led by volunteer facilitators who are native English speakers and guide conversations on relevant life skills topics.
If you are interested in facilitating a group, please email us at [email protected] to learn more.
For more information, email BoulderReads staff at [email protected], or fill out our contact form.