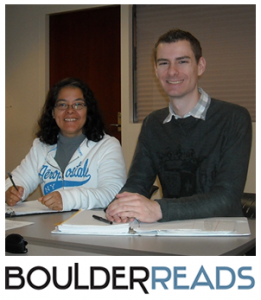 General Education and ESL Resources
ELLLO is a website for ESL learners to practice their listening skills.
Vocabulary.com is a website that makes learning English vocabulary learning interesting and fun.
Englishgrammar.org is a website that has explanations and exercises to help you learn English grammar.
Library Tech Resources
Teach Yourself Tech is a library resource that helps you learn basic computer skills.
Virtual Tech Help is a free library service that you can register for. Somebody will help you with your basic tech questions or problems.
Overdrive
You can use your library card to check out eBooks and audio books from Overdrive. Here are two collections that might be helpful:
In the Adult Literacy Collection, you can find interesting books that are easier to read. You might recognize some from the BoulderReads collection!
The Language Learning Collection has textbooks for many different languages, including English. There are books about English grammar, vocabulary, and TOEFL practice resources.
How to use Zoom:
Learn how to use Zoom video call software.