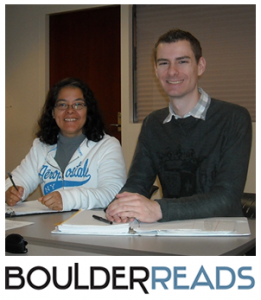 Library Events
International Bilingual Family Gathering – Held monthly on the 2nd Saturday at the Main Boulder Public Library. For all families who are raising their children in a bilingual household.
General Education and ESL Resources
ELLLO is a website for ESL learners to practice their listening skills.
Vocabulary.com is a website that makes learning English vocabulary interesting and fun.
Englishgrammar.org is a website that has explanations and exercises to help you learn English grammar.
CollegeChoice.net is a website that helps you explore university programs if you're interested in getting a college degree.
Online Job Coaching Get live job and resume assistance from Brainfuse, available every day from 2 PM to 11:00 PM!
Adult Learning Center Get help achieving your learning goals with a live one-on-one academic coach, practice test center, and online resources. All you need is your library card and an internet connection.
Available in Spanish and English from 2:00 PM – 11:00 PM MST
Online Homework Help Get free homework help from a live, online tutor. All you need is your library card and an internet connection.
Available in Spanish and English from 2:00 PM – 11:00 PM MST
Workforce Atlas This free online career pathways platform assesses your literacy, numeracy, workplace skills, and interests, then directs you to recommended occupations, online resources, and local providers that can help you achieve your professional, academic, and personal goals.
Library Tech Resources
Teach Yourself Tech is a library resource that helps you learn basic computer skills.
Tech Help is a free library service on Saturdays at Meadows Library (11am-1pm) and the Main Library (1-3pm). Somebody will help you with your basic tech questions or problems. Sessions are limited to 15 minutes when others are waiting. No registration required for in-person help. 
Technology Resources
EveryoneOn is an organization that connects families to affordable internet service and computers, and delivers digital skills trainings.
The Emergency Broadband Benefit is a program to help families and households with the cost of internet service during the COVID-19 pandemic.  The program will provide a one-time discount of up to $50 towards monthly broadband service for eligible households and a one-time discount of up to $100 to purchase a device from participating providers.
Overdrive
You can use your library card to check out eBooks and audiobooks from Overdrive. Here are two collections that might be helpful:
In the Adult Literacy Collection, you can find interesting books that are easier to read. You might recognize some from the BoulderReads collection!
The Language Learning Collection has textbooks for many different languages, including English. There are books about English grammar, vocabulary, and TOEFL practice resources.
How to use Zoom:
Learn how to use Zoom video call software.